From Independent Record | ORIGINAL ARTICLE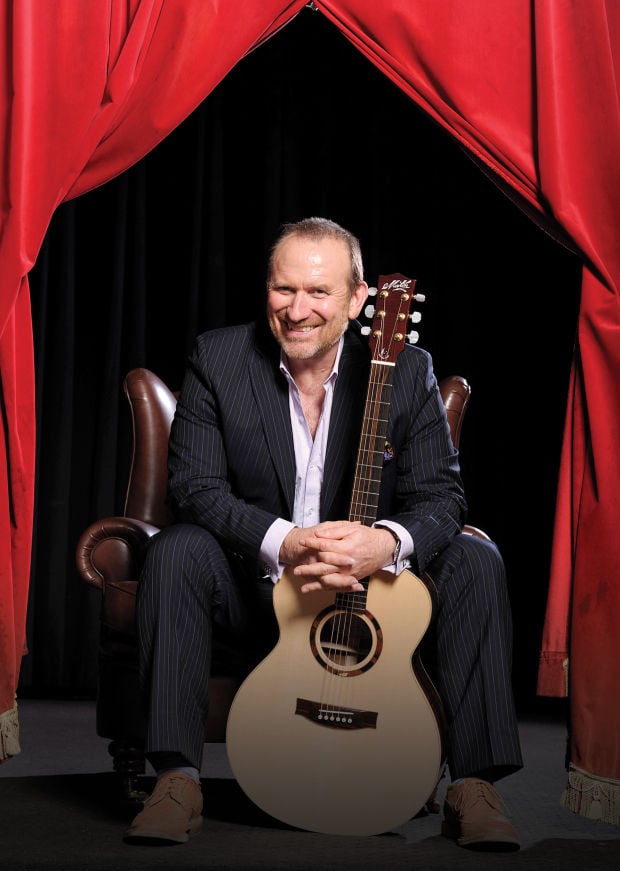 Colin Hay, former front man for the hit Australian band Men at Work, brings his solo show "Finding My Dance" to the Myrna Loy Center stage Monday night.
The 7:30 p.m. concert will be his sole Montana show on his tour of the Western United States. He just returned from a two-month Australia tour, playing such storied venues as the Sydney Opera House's Drama Theatre.
Hay will play a mix of favorite tunes from his three-decade recording career and from his new album "Gathering Mercury," he said in an IR phone interview from California.
"It was a very intense record to make," he said in his distinctive Scottish brogue that persists, despite years residing in Australia and more than 20 years in California. "I like the whole record for many different reasons. I think it's the strongest record I've made.
"I had a particularly great set of musicians, and I felt I had a particularly strong set of songs."
One of these, "Dear Father," is inspired by the death of his father in the past three years.
"While I was making the record, the air seemed to be thick. … he was just ever-present," said Hay, who is still coming to terms with his father's absence.
"Like all father-son relationships, it was complicated. I had a lot of feeling for him. He did some great things in his life. … He made you feel very safe. Once you've grown up, it stays with you. It stands you in good stead. Even now it feels like he's protecting me in some way.
"He was a singer and dancer — he was really an artist … in many ways, but didn't follow that path. We had a music shop," Hay added.
Hay's mother was also a good singer.
It's a cultural thing, he said of the love of singing in Scotland. When his parents were in their 20s in Glasgow, singing at parties was the common form of entertainment. "You didn't get into a party unless you had a song."
His parents later relocated the family to Australia when Hay was 14. He picked up some early music training on piano, but it was the guitar he gravitated to as a teen.
In Australia, he found himself in a thriving music scene. At 25 he was playing music with Ron Strykert as a duo, and the two formed the band Men at Work, releasing their first album, "Business as Usual," in 1981.
It would go on to sell more than 10 million copies and win a Grammy, as well as topping music charts all over the world. Among the group's many signature songs were "Down Under," "Overkill" and "Who Can It Be Now?"
A number of Hay's songs on "Gathering Mercury," deal with facing mortality.
"I just try to keep things as present as possible" he said. "I'm almost 60," which makes him reflect that perhaps he has 20 years left.
"I really want to enjoy myself — and to make everything I do with as much dimension and fulfillment as I can."
One song, "Send Somebody," is both about modern isolation and frustration, but it goes deeper. It's based on the story of a friend who was having a computer problem and called tech support after midnight.
"He actually got a human, and she was lovely," said Hay.
"If we take the idea further," he explained, "it's about a level of intimacy with a total stranger."
It's also about realizing that the reason behind making a call may be something much bigger than dealing with a computer problem, but other things happening in the world. "What you want to say is not only am I crumbling but the world is crumbling."
When the larger issues hit — like the world burning too much carbon, he said, or that people are killing each over because their "imagined god" is different than other people's "imagined god" — "we realize that we just want somebody to send somebody to fix it."
His concerts are a mix of music and stories.
"I have a long list of favorite songs," he said. "I never end up doing all of them."
Ideas sometimes come to him as he tours, but he finishes songs in his basement studio.
"It's a funny thing, that — sometime you hit a little vein of gold, other times you're just scratching around.
"As I get older, I have to get more organized … and manage my time better, otherwise things don't happen.
"I like to have a plan. If I want to work on writing a song, I'm just going to allow myself to sit in my room with a guitar for four hours. … Your brain starts to idle. It starts to empty out. A stillness can occur. Then you can have some ideas come in that tend to stay.
"The picture I sometimes have in my head is like there being a hotel foyer and an idea can come in. If there are bags everywhere and chaos, it will turn around and walk out again. But if it walks in and there is a water fountain and a certain stillness, then the idea can stay and germinate."
He tests out his songs on his wife and a couple of trusted friends. If it pleases them and he feels excited about it, it's a good sign.
Song topics stray beyond his own life: "I get a little bit tired with myself."
Like a good actor, he likes to take on a different character and let his imagination run wild.
"If you're telling a story, it doesn't have to be about you. You can set a beautiful scene that may evoke great emotion but it has nothing to do with you at all.
"There's always some degree of autobiography because it's coming through you, but it's good to just let that go and not input your personality. You're really just moving the pencil or the pen and just letting your imagination have free rein."
"Finding My Dance," Hay said in earlier interviews, is his expression for connecting with his authentic self. It comes from the comment of an aboriginal man who spoke to him following a show: "Where's your dance? I used to like your dance, you've lost your dance, mate, you've got to find your dance."
"Finding My Dance" is Hay's inner search. "Whilst I may never truly find it, it matters not," he's said. "What's important is to keep searching, and in the process, refine and simplify the steps."
Music critics acknowledge that whether he's finding his dance, or not, his show is well worth seeing.
One Australian reviewer wrote: "Hay is at the absolute peak of his craft. As a writer and vocalist, he has never been more masterful."
The Houston Chronicle said, "Hay is funnier than most stand-up comedians, so he'll split your sides and then drop a heart-breaking ditty on you."
Tickets are $25 and are available at 443-0287 or www.myrnaloycenter.com. The Myrna is at 15 N. Ewing.